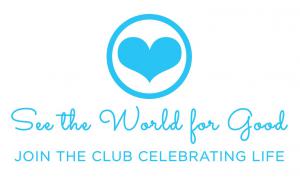 www.SeetheWorldforGood.com A Fun High Purpose Social Club for Selfless LA Optimists Who Love to Change Kids' Lives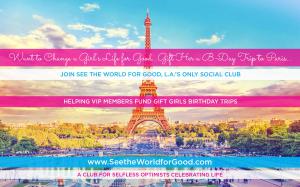 Are you a Big Sister or Mentor to a Girl? Join the only Club helping fund gift girls B-Day trips to Paris.

Serving Like Minded Professionals Who Love to Fund Gift Kids Extraordinary B-Day Experiences www.RecruitingforGood.com
Recruiting for Good sponsors purposeful club to collaborate with Executives, Mentors, and Professionals who love to positively impact kids' lives.
Join the only fun high purpose social club in LA helping Big Brothers, Big Sisters, Executives, and Mentors fund gift kids awesome B-Day experiences…"
— Inspired to Serve Members, Founder See the World for Good, Carlos
SANTA MONICA, CA, UNITED STATES, September 20, 2018 /EINPresswire.com/ — Recruiting for Good collaborates with individuals who are interested in sponsoring special B-Day experiences for kids in L.A.. People participate by making referrals to companies and Recruiting for Good shares a portion of the placement fee to create an unforgettable experience.
According to Recruiting for Good and See the World for Good Founder, Carlos Cymerman, "Our service is confidential and personal. We love to collaborate with like-minded professionals (Big Brothers, Big Sisters, Mentors) who share our values. How do we inspire 'See the World for Good' by creating magical moments for kids in LA, that change their life for good."
How to Join See the World for Good
The high purpose club is for awesome Optimists living in LA; committed to making life better for others.
1. Email Carlos@SeetheWorldforGood.com to meet in person, and talk about whose life 'you want to change for Good.'
2. After meeting, Recruiting for Good works collaboratively to help fund unforgettable birthday experiences.
Rewarding LA Kids Awesome B-Day Experiences
1. Fun Paris Girl Trips
2. Gift Kids VIP Basketball Tix
3. Learn French (hire 1 on 1 personal teacher)
Carlos Cymerman, adds, "For the past eight years, I have been very fortunate to mentor a young woman in LA, for her birthday a couple of years ago I gifted her a 6 month sculpturing class that transformed her life."
About
Recruiting for Good, a socially progressive staffing company in Santa Monica, finding talented professionals kicka$$ jobs, since 1998. Companies retain us to find the best talent in Accounting/Finance, Engineering/IT, and Marketing/Sales professionals. We reward referrals with fun experiences. visit: www.RecruitingforGood.com
Our Moms Work is a Santa Monica based community service sponsored by Recruiting for Good; offering cost free personal career mentoring services, and rewarding women who make referral to help fund Our Moms Work B-Day Trips to Paris. Our fun mission…"When we love life…the party never ends." www.OurMomsWork.org
See the World for Good is a high purpose fun club for selfless Executives, Mentors, and Professionals who love to gift kids awesome experiences for their B-Day. Simply participate in Recruiting for Good referral reward service to fund gift a special experience for an L.A. kid (VIP Basketball Tix, Learn French, Fun Girl Trips to Paris). www.SeetheWorldforGood.com
First Choice Tickets, Inc. and www.4tix.com have been providing our clients with hard-to-get and premium tickets to all major worldwide, national and local events since 1989. We are a fully licensed ticket broker and current member in good standing with the National Association of Ticket Brokers and please click the Reliability Report below to get additional corporate information on our company. A+ BBB Rated. 5 Star Yelp Rated 5 Star Google Rated NATB (National Assoc. of Ticket Brokers) Member, No hidden fees, Personalized service.
Carlos Cymerman
Recruiting for Good
3107208324
email us here

Source: EIN Presswire