Join Us to Make a Difference, Enjoy Rewards, and Love Life www.RecruitingforGood.com
Help Your Friends Find Great Tech Jobs and Enjoy Ridesharing Rewards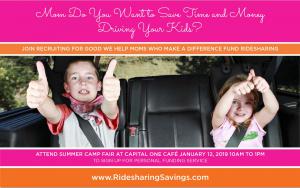 We're Only Helping and Rewarding Moms We Personally Know
Recruiting for Good is rewarding referrals to tech candidates with $500 ridesharing gift cards and donating $500 gift cards to moms who make a difference in LA.
Join Us to Make a Difference, Enjoy Rewards, and Love Life"
— Carlos Cymerman, Fun Advocate+Founder, Recruiting for Good
SANTA MONICA, CA, UNITED STATES, December 12, 2018 /EINPresswire.com/ — Recruiting for Good based in Santa Monica, California, is rewarding tech candidates referrals with ridesharing rewards ($500 gift cards); and matching the reward by donating ($500 gift cards) to moms who make a difference (to help their kids travel to camp, school, and sports activities).
According to Recruiting for Good, Founder Carlos Cymerman, "Join us to help your friends get awesome tech jobs, and enjoy ridesharing rewards (Hop Skip Drive, Lyft, Kango, Uber, or Zum). And you will also make a difference by helping a mom save time and money driving their kids in LA."
How to Help Friends and Earn Rewards
1 Refer a friend, or family member who is a US Citizen, US Resident, or EAD who is looking for a job in engineering or Information Technology (with 3 years of professional experience); that lives in the U.S..
2. Recruiting for Good helps your friend find an awesome job, and after they complete 90 days of employment.
3. Recruiting for Good rewards a $500 gift card to your favorite ridesharing company.
How Good Moms Sign Up for Ridesharing Rewards
Recruiting for Good is only rewarding L.A. moms who make a difference in the community. And that we personally know.
Carlos Cymerman adds, "Are you a mom in L.A. that makes a difference and wants to save money on ridesharing? Come to our Summer Camp Fair at Capital One Cafe, on January 12th, 2019 from 10am to 1pm to sign up in person and qualify for future ridesharing saving rewards."
About
Recruiting for Good is a socially progressive staffing company in Santa Monica, finding talented professionals awesome jobs, since 1998. Companies retain us to find the best talent in Accounting, Finance, Engineering, Information Technology, Marketing, and Sales professionals. Our cause is to help fund summer camp. Women join to help fund camp scholarships; and earn exclusive love life rewards www.RecruitingforGood.com
Capital One Cafés are inviting places where you can bank, plan your financial journey, engage with your community, and enjoy Peet's Coffee®. "You don't have to be a customer." www.capitalone.com
Attend Fun Summer Camp Fair at Santa Monica Capital One Cafe on January 12th, 2019 from 10 am to 1 pm to get to know local camps. Moms who make a difference can sign up for future summer camp scholarship savings and ridesharing rewards. We created the fair to deliver inspired information in a personal and meaningful way (by selecting a diverse group of 10 camps). To learn more visit www.RecruitingforGood.com
Carlos Cymerman
Recruiting for Good
+1 310-720-8324
email us here
Visit us on social media:
LinkedIn

Source: EIN Presswire